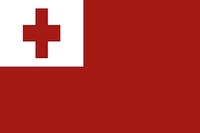 Book cheap flights to Tonga by selecting an airport destination in Tonga below. Compare flights to Tonga from over a hundred airlines worldwide and book online with us today.
The country of Tonga is a cluster of islands that are based in the South Pacific Ocean.
The capital and largest city of Tonga is Nuku'alofa. Other large cities include Neiafu, Havelu, Vaini, Pangai, 'Ohonua and Hihifo.
Tonga is a friendly and appealing place to visit with an abundance of tourism facilities in place. The main places of interest to visit in Tonga are Tongatapu, 'Eua, and Ha'apai. The two main airports in Tong are Fua'amotu International Airport and Lupepau'u international Airport. Tongatapu is the largest island in Tonga and it is a beautiful coral island that also has many interesting places to visit such as the coastal blowholes and the ancient tombs as well as nice beaches that provide excellent snorkelling opportunities.
'Eua is located just southeast of Tongatapu and is the island that is the highest in Tonga. It is not geographically related to the other islands, as they are much younger. There are many beaches to the west and striking cliffs to the east. It also has the largest tropical rain forest based in Tonga, which is great for trekking. Across from the main town of Neiafu is a beautiful harbour that is a popular with people that are sailing their yachts on the South Pacific. Ha'apai is a collection of approximately 60 islands and is located above Tongatapu and in 1789, is where the Mutiny of the Bounty happened.
The main industry sectors in Tonga are agriculture, fisheries, tourism, construction, wholesale and retail, forestry, and manufacturing.