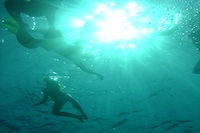 Book cheap flights to Vanuatu by selecting an airport destination in Vanuatu below. Compare flights to Vanuatu from over a hundred airlines worldwide and book online with us today.
800 km west of Nadi (Fiji) is the chain of 80 islands known as Vanuatu, the name translates to 'Land Eternal.' This diverse country hosts more than 115 disparate languages and cultures, with the Ni-Vanuatu the original inhabitants. The main languages of the islands are English and French. With a total population of about 200,000, this small country's people are peaceful and harmonious.
Bauerfield is 10 minutes' travel from Vanuatu's capital city of Port Vila and is the major point of entry.
The economy depends on tourism, so you'll find a lot to see and do. Tourists can take sightseeing tours around the islands, or go snorkelling and explore the islands' caves. There are both planned excursions and "play as you go" opportunities available, depending on what you would like to do. Some activities you may want to pursue include swimming and playing with the dolphins or going fishing on Lelepa Island (There is "big game" fishing available for sports enthusiasts, too). Tourists can also see the majestic waterfall on Mele Cascades, or indulge by spending some time on Eton Beach or going to Hideaway Island to relax, read or go snorkelling. You could also visit Mount Yasir in Tanna Island, the country's active volcano.
Wood processing, meat canning and the freezing of fish and other food comprise major industries in this country.