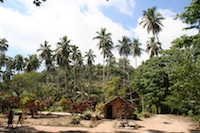 Book cheap flights to Samoa by selecting an airport destination in Samoa below. Compare flights to Samoa from over a hundred airlines worldwide and book online with us today.
The Independent State of Samoa is made up of the western part of the Samoan Islands, and is situated in the South Pacific Ocean. Samoa became independent of New Zealand in 1962, and its two largest islands are Upolu and Savai'i. Samoa's capital city, Apia, and the main international airport, Faloelo International Airport, are based on the island of Upolu.
Many of Samoa's traditions have been passed down through the generations, and have remained largely unchanged for a very long time. The traditional language, political systems, and customs are all as they have been for generations, with great importance put upon traditional cultural ceremonies. This comes despite centuries of European influence.
With some of the most beautiful landscapes in the South Pacific, Samoa is a great destination for travellers who love the great outdoors, with rocky trails and sprawling plantations jostling for attention. As with many island nations, the coastline cries out to be explored, with dazzling coral and plenty of interesting marine life in lagoons. Some of the beaches are truly stunning, and inland there are isolated valleys with marvellous waterfalls plunging into beautiful pools.
Many Samoans adopt a languid laid back approach to life. This may take a little getting used to for those accustomed to the hustle of the big city, but it is easy enough to acclimate if it is peace and relaxation that your seeking. In addition to this, Samoan hospitality is famously warm and welcoming, with residents never short of a grin or friendly word towards visitors.