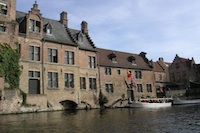 Book cheap flights to Belgium by selecting an airport destination in Belgium below. Compare flights to Belgium from over a hundred airlines worldwide and book online with us today.
Compared to other European countries, Belgium remains a country that is not frequently explored. Belgium is located in western Europe and shares its borders with France, the Netherlands, Germany, and Luxembourg. It also borders on the North Sea between the Netherlands and France. This ideal location makes Belgium a natural destination for those wanting to explore more of Western Europe.
The country is small enough to traverse in a week, but once the spirit of Belgium gets a hold of you, it may be necessary to stay a bit longer. The country has its share of great medieval churches, history, and culture. The capital city of Brussels is full of the architecture of the Middle Ages and Art Nouveau.
The top destination cities in Belgium include Brussels, Antwerp, and Bruges, all of which are decorated with magnificent architecture. The country is divided into two distinct sections. These are the Dutch-speaking Flanders side and the French-influenced south portion of Wallonia.
One of the most noted sights to see in Belgium is Flanders Fields where over one half million war veterans died during World War I. The city of Antwerp treats visitors to the second largest harbour in Europe. The harbour dates back to the 16th and 17th centuries, displaying great pieces of architecture. Bruges is a UNESCO World Heritage City with a 14th century town hall and other monumental buildings. There are also many fantastic castles and mighty fortresses to see in the Wallonia area.