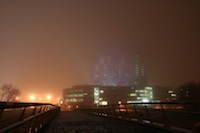 Book cheap flights to Belarus by selecting an airport destination in Belarus below. Compare flights to Belarus from over a hundred airlines worldwide and book online with us today.
Known to many as Belorussia or White Russia, the country of Belarus sits just east of Poland in Eastern Europe. The country is typically not well received around the world because of its past. Despite this legacy, it is a picturesque country of quaint villages and deep green forests, ancient castles and monumental monasteries that date back to the 12th century.
Belarus is a country of natural beauty with thousands of lakes and acres of open land waiting to be explored. The nation's major industry is timber, which is ideal for a country that remains covered in a variety of trees including maple, birch, pine, and oak. Its lands are home to many beautiful species of wildlife such as fox, wolves, bear, and wild boar.
The main international airport is located in the capital city of Minsk. The Minsk National Airport, which was formally the Minsk-2, is located about 26 miles (42 kilometres) from the city centre.
Sightseeing in Belarus will take you across the land into various stages of the country's history. The city of Grodno, which is the fifth largest in the country, is where major sites from the 11th century can be found. Look for the Kalozh Church and the Old Castle in the Old Town. Do not miss the opportunity to see a traditional onion-shaped dome of a Russian Orthodox Church. The town of Logoysk, which is about 25 miles from Minsk, is home to one of the most cherished in the country.