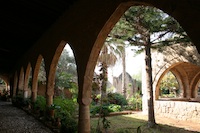 Book cheap flights to Cyprus by selecting an airport destination in Cyprus below. Compare flights to Cyprus from over a hundred airlines worldwide and book online with us today.
Cyprus is an island in the Mediterranean that raises strong feelings in many of countries in the region and has some of the most beautiful scenery and beaches that the Mediterranean offers. The island is mostly composed of ethnically Greek and Turkish populations and it has been hard in the past to find agreement between these two populations on how Cyprus should be governed. Such issues have even hindered Turkey's intentions to join the EU. It is located close to Greece and Turkey and has Syria to the east and Egypt to the south. It is a modern country with a strong economy whose population generally live well.
Tourism has helped stoke the economy and recently property prices have seen significant increases. Cyprus is seeing continuous investment, and foreign interest has increased recently due to the stability of the new Turkish lira. The official currency of the country is the Euro, and Cyprus is part of the Euro Zone, although the Turkish Lira is still used in the areas dominated by Turkish populations. The main airport for Cyprus is Larnaca International Airport and is located approximately two and a half miles south-west of Larnaca. Nicosia is Cyprus's capital city and also it's most populous. It is a very popular tourist destination, drawing large crowds due to its stunning beaches, excellent resorts, and fantastic climate.