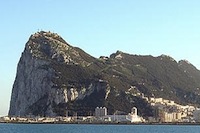 Book cheap flights to Gibraltar by selecting an airport destination in Gibraltar below. Compare flights to Gibraltar from over a hundred airlines worldwide and book online with us today.
Gibraltar is a small and beautiful British territory at the southern tip of Spain, characterised by a giant limestone rock rising over 300 metres out of the sea. The dramatic landscape and coastline are home to an exciting array of wildlife making Gibraltar a popular destination for bird watching, fishing, and diving.
You can fly directly into Gibraltar airport in the north of the country where you can choose to head into town or straight off to the coast. There are plenty of taxis available to take you to your destination or for a guided tour, and seasoned walkers will find it easy to cover all the island's attractions on foot.
The cuisine is mainly Mediterranean with a north African twist and there are plenty of restaurants and cafes to choose from. Gibraltar has a thriving nightlife where visitors can listen to live music in a bar, have a flutter in one of the casinos, or dance the night away with most clubs staying open into the early hours.
Gibraltar has long been a strategically important location for shipping, linking the south of Europe to northern Africa so sailing opportunities abound. Take a sightseeing mini cruise, a dolphin safari, or even book up for some sailing lessons.
Gibraltar's culture has been influenced by a chequered history and you can enjoy Spanish, British, Italian and Moorish architecture as you wander through the city streets. Enjoy a fortifying espresso in the Irish quarter before hitting Main Street for some serious duty-free shopping followed by a relaxing break on the sunny beaches.