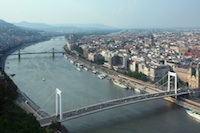 Book cheap flights to Hungary by selecting an airport destination in Hungary below. Compare flights to Hungary from over a hundred airlines worldwide and book online with us today.
Hungary is located in Central Europe, and shares borders with Austria, Slovakia, the Ukraine, Romania, Serbia, and Croatia. It has a varied landscape that includes mountains, lakes, and plains. Budapest, the capital and main cultural centre, is located in the northern part of the country. Its main international airport is Franz Liszt International Airport, which receives flights from several major international cities. Debrecen, the second-largest city, is located in the eastern part of the country.
Many of the cultural attractions are found in the capital, and many people have compared it to Paris. If you love the arts, you are likely to find an event of interest to you here. The Royal Palace is located on Castle Hill, right in the heart of the city. It contains the National Gallery, Matthias Church, and Fisherman's Bastion. Other attractions here include St. Stephen's Basilica, the Parliament Building, and the Great Synagogue, which has its own museum. If you visit Debrecen, you will want to see the art and nature exhibits at the Deri Museum. Another popular sight is the Great Church, which was one of the first Protestant churches in Hungary. If you should visit the city of Miskolc, you will be able to see cave baths that are unique to the region. Do not forget to visit Eger, which is home to a mediaeval castle.
Most of the country's industry is focused on heavy manufacturing. Some of the principal products include steel, diesel engines, washing machines, and pharmaceutical drugs. The country has relatively few natural resources in comparison to many other countries, so most raw goods are imported.