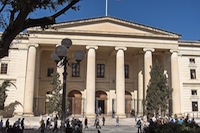 Book cheap flights to Malta by selecting an airport destination in Malta below. Compare flights to Malta from over a hundred airlines worldwide and book online with us today.
Malta is a holiday destination that is rapidly growing in popularity thanks to its warm weather, luxurious location, and friendly people. Situated in the Mediterranean, just below Italy, Malta is a small island with a big reputation. As most Maltese people speak English, it has become the perfect getaway for Brits, where they can relax in the hot weather.
Valletta is the capital city of Malta and contains many buldings that date back to the 16th century, making it a great place for archaeology buffs. Malta International Airport is not too far away in the south-east of Malta at Luqa and is the only airport serving Malta. It has flights to much of the United Kingdom and Europe.
Being so small, you are never far away from a beach in Malta and there are many resorts tailored specifically for tourists, such as Sliema, which is just north of Valletta. An excellent array of water sports and facilities are available at most of these resorts. Nightlife in Malta is all centred on one area called Paceville. Here there are a number of nightclubs and bars that cater for all music tastes, as well as other establishments such as cinemas, sports bars and a bowling alley.
Malta's industries are mainly tourism, foreign trade and manufacturing of electrics and textiles. Its fanciful location and harbours means it is an excellent point of contact for many countries involved in trade.
With its close links to Britain, friendly atmosphere and warm climate, Malta is a destination worth considering when planning your holiday.