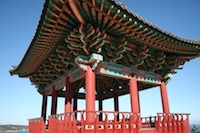 Book cheap flights to Korea North by selecting an airport destination in Korea North below. Compare flights to Korea North from over a hundred airlines worldwide and book online with us today.
North Korea is located just to the north of South Korea and south of China and Russia. Its coast is on the Sea of Japan. Over the years, the country has been influenced by different cultures.
Pyongyang is the country's capital, located in the west, and the port of entry for all foreign visitors. Another city that may possibly be seen by visitors is Kaesong, which is a former capital in the south. Nampo is a port city not too far from the capital.
Sunan International Airport is 24 kilometres from the capital, and has regularly scheduled incoming flights. This is the only airport open to international flights. Other locations must be reached via a tour vehicle.
The country has several sights to see. Due to very strict regulations, all travellers must be part of a tour group. This can include a single person travelling with a tour guide. Some of the most popular attractions are the various mountain ranges found throughout the country. The Diamond Mountains are celebrated for the scenic beauty, as well as the Buddhist sites found there. You will see several interesting rock formations, as well as waterfalls and a beautiful lagoon. An abandoned Zen monastery is located on the site. Another popular place to visit is Myohyangsan, which has less evidence of human habitation. For another impressive sight, see Mt. Paektu. The mountain is an extinct volcano that is also the highest peak in North Korea.
Most of the industry in North Korea is focused on manufacturing, especially machinery and textiles. Mining also provides a contribution to the economy. Agriculture, particularly involving fresh fruit, is another important industry.