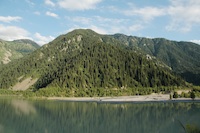 Book cheap flights to Kazakhstan by selecting an airport destination in Kazakhstan below. Compare flights to Kazakhstan from over a hundred airlines worldwide and book online with us today.
Kazakhstan is located in Central Asia, and was once part of Russia. Some of its neighbouring countries include Russia, China, and Uzbekistan. The only major body of water that borders the country is the Caspian Sea.
Astana is the capital, located in the north. Thought it is not the largest city, it has been experiencing tremendous growth. Almaty was the previous capital, and is actually the largest city.
Astana International Airport is the main point of entry for most European travellers. There is also an airport at Almaty. Both airports receive flights from several international locations.
Many visitors are quite eager to visit the city of Pavlodar. Several Orthodox churches are located in the city, as well as a mosque and some museums. Turkestan has several monuments dedicated to Uzbek culture. If you would like to see some of the country's impressive mountains, you will want to see Shymkent. Another interesting mountain area is Medeu. If you would like to learn more about the history of mining that makes up a large part of the local economy, Karaganda is a good place to visit. Should you decide to visit a nice forested area, Karkaraly National Park is an excellent choice. In addition to numerous flower species, there are several types of eagles and other raptors that can be easily observed.
The oil and uranium mining industries form a very important part of the economy of Kazakhstan. Wheat and livestock are frequently exported to other countries. Other important exports that are beneficial to the economy include textiles.