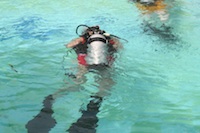 Book cheap flights to Northern Mariana Islands by selecting an airport destination in Northern Mariana Islands below. Compare flights to Northern Mariana Islands from over a hundred airlines worldwide and book online with us today.
The turquoise waters and white sands of the Commonwealth of the Northern Mariana Islands (CMNI) attract people from across the globe.
The string of 14 islands are in the North Pacific Ocean are about three-quarters of the way from Hawaii to the Philippines. The islands are not described as a country as they fall under US administration as part of the UN Trust Territory of the Pacific.
Often shortened to CMNI or the Northern Mariana Islands, its capital Saipan is the best known island and has the main airport at Francisco C Ada Saipan International Airport. However, it is surrounded by small, idyllic islands that are well worth a visit and easily accessible by boat.
One of the most enjoyable past times for tourists is island hopping. Saipan boasts beautiful flame trees, historical sights and stunning diving and snorkelling experiences. Some of its best diving points include the Grotto and Mañagaha Island with clear water and colourful tropical fish.
Just south lies the peaceful island of Tinian, which remains largely unspoilt and provides perfect respite from the business of Saipan. However, the real gem of the North Mariana Islands is Rota with its rolling hills, farms, wildlife and picture perfect sunsets.
The key industry on the island is tourism which employs about 50% of the work force. The remainder work in banking, construction, fishing or garment making, the latter being the most important industry on the islands. The farmers produce vegetables, melons, fruits and nuts as well as plants and other livestock.