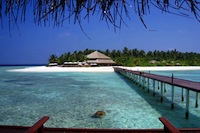 Book cheap flights to Maldives by selecting an airport destination in Maldives below. Compare flights to Maldives from over a hundred airlines worldwide and book online with us today.
If you are after a holiday to remember, there are few places more unique to visit than The Maldives. Located around 250 miles south-west of India in the Indian Ocean, The Maldives is made up of over 1000 tiny islands, some of which are solely for tourists. With so much sea, water sports are the most popular activities for holidaymakers.
The capital city of The Maldives is Malé, situated in the region of Kaafu. Over 100,000 people live in it, which for an island of its size (just 1.7 kilometres by 1 kilometre) makes it the most densely populated city in the world. Malé International Airport is on the neighbouring island of Hulhule, acting as the main entry point for everyone before they are whisked away to their destination via speedboat or plane, immediately making it a unique holiday experience.
With nearly 100 of the islands made into resorts specifically for tourists, the choice for your holiday is vast. Each island has a central hotel with all the facilities you could ask for, including restaurants, bars, shops, and sports. However, be prepared to spend money, as the exclusivity of these holidays does not come cheap. As soon as you are faced with the beautiful blue sea and white sands, you will see why. Water sports obviously play a large part in the activities in The Maldives, with opportunities for diving, swimming, surfing and water-skiing.
The huge tourism industry is obviously The Maldives' main benefactor, but fishing and agriculture also play a small part in the nation's success.