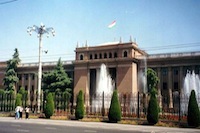 Book cheap flights to Tajikistan by selecting an airport destination in Tajikistan below. Compare flights to Tajikistan from over a hundred airlines worldwide and book online with us today.
The landlocked country Tajikistan is in Central Asia and borders Afghanistan to the south, China to the east, Kyrgyzstan to the north and Uzbekistan to the west and northwest.
The two largest cities in Tajikistan include its capital city Dushanbe and Khujand.
Tajikistan is one of the world's poorest countries however there are still many places of interest within the country which include Dushanbe, Khorugh, Pamir mountains, Penjikent and Zeravshan. The main airport in Tajikstan is Khujand International Airport. Dushanbe is the country's capital and therefore has many sights to see including the Massive Statue of Somoni, Victory Park, Fort Hissar, Rudaki statue, Gurminj Musical Instrument Museum, Museum of Antiquities and the Museum of Archaeology.
The Pamir mountains are situated in south eastern Tajikistan near the border with Afghanistan, points of interest here include Lake Karakol, Khorog, Wakhan Valley, Murghab's very small bazaar, Weekly Ishkashim Afghan Bazaar and Old Fortress's in the Wakhan Valley. Penjikent is a city in Tajikstan and is the old centre of the Sogdian Empire, there are a few sights to be seen in Penjikent, which include Ancient Panjakent, Rudaki Museum, olim Dodhko Mosque and Medressah and Kainar Ato Spring. Finally, the Zeravshan Valley is situated in northern Tajikistan and has a variety of places of interest; these include Old Panjakent, The seven pearls of the Shing, Fan mountains, Iskander Kul and Yagnob valley.
Some of the main industries in Tajikistan are cotton ginning, food processing, silk spinning, and carpet weaving.