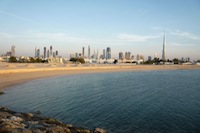 Book cheap flights to United Arab Emirates by selecting an airport destination in United Arab Emirates below. Compare flights to United Arab Emirates from over a hundred airlines worldwide and book online with us today.
The country of United Arab Emirates is a federation of seven emirates located on the eastern side of the Arabian Peninsula. It borders Saudi Arabia to the west and southwest and Oman to the southeast.
The capital city of United Arab Emirates is Abu Dhabi and has many large cities within its country including Dubai, and Sharjah.
The United Arab Emirates is a modern country and to most people it is portrayed as advanced and clean. It has many attractive tourist places to visit which include Abu Dhabi, and Dubai. Main airports in the United Arab Emirates include Abu Dhabi International Airport, Ajman International Airport, and Dubai International Airport.
Abu Dhabi is one of the most modern cities in the world and many sights can be seen here including the Sheikh Zayed Mosque, Corniche, and the world's tallest flagpole. Ajman is the smallest of the seven emirates and is located on the western coast of the United Arab Emirates, places of interest that can be seen here include the Ajman Museum and the beach where dolphins can be spotted. Dubai is another one of the seven emirates that make up the United Arab Emirates and is a desert city with superb infrastructure. There are many sights to see in both Old Dubai and Modern Dubai which include Al Ahmadiya School, Burj Khalifa, Bastakiya District and The Dubai Fountain.
Major industries in the United Arab Emirates include aluminium smelting, cement and fish processing.