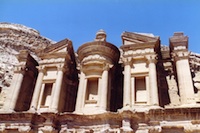 Book cheap flights to Jordan by selecting an airport destination in Jordan below. Compare flights to Jordan from over a hundred airlines worldwide and book online with us today.
Jordan, located in the Middle East, shares borders with Saudi Arabia, Iraq, Syria, the West Bank, and Israel. Part of the Dead Sea, a popular tourist attraction, is located in the country. There is also a small area on the Red Sea in Aqaba.
Amman is the country's capital, and home of the royal family. It is located in the north-western part of the country. Irbid, to the north of the capital, is another large metro area. Aqaba is in the south-western portion of the country, on the Red Sea.
Most flights arrive at Queen Alia International Airport, which is less than an hour's drive from the capital. If you choose to arrive by way of Aqaba, you will arrive at King Hussein International Airport.
There are many fascinating sights to see. Petra, the city carved out of stone, is one of the most popular attractions in the Middle East. If you are interested in swimming, you will want to visit the Dead Sea, where everyone floats easily because of the salt content. In the eastern part of the country, you can visit five castles that once belonged to the ancient calyphs. Kerak is home to the ruins of a castle from Crusader times. Some other interesting attractions include the Roman ruins at Jerash and the mosaic map at Madaba.
Jordan has both uranium and oil shale deposits, which contribute to the economy. Agriculture is no longer a major industry, although the country exports a lot of fruit. The tourism industry continues to become more important.