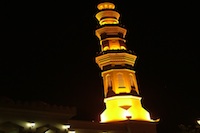 Book cheap flights to Qatar by selecting an airport destination in Qatar below. Compare flights to Qatar from over a hundred airlines worldwide and book online with us today.
The Arab state of Qatar is rivalling its better-known neighbour Dubai for glitz and glamour these days. The relatively unknown country is becoming a more popular destination every year.
Doha Qatar International Airport takes you into the capital of Doha, which boasts modern, futuristic architecture with an abundance of fantastic shops. There are great restaurants in the city too, especially in the Al-Bandar area.
To really see what Doha is all about, take a walk along the 7km waterfront promenade of Al Corniche and visit the Arabian institution of the Sheraton Doha Resort, which offers panoramic views of the city's skyline.
However, there is also much more to the country than its capital. The north boasts some superb beaches and has numerous abandoned villages worth visiting. You can also spend a night at the waters of Khor al-Adaid, surrounded by sand dunes or go bird-watching in the gardens of Al-Khor, a small city on the coast north of Doha.
At Jebel Jassassiyeh you will find rock carvings dating back thousands of years, while some of the country's finest mosques can be found in Al-Wakrah, where flamingos can also be seen in the shallow waters of the beaches.
Qatar's key industry remains in oil and gas, which accounts for about 85% of its export earnings. The country also produces fertilizers, cement and steel reinforced bars.