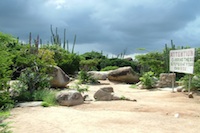 Book cheap flights to Aruba by selecting an airport destination in Aruba below. Compare flights to Aruba from over a hundred airlines worldwide and book online with us today.
Situated in the Caribbean Sea just north of Venezuela, Aruba remains a destination hot spot for holidaymakers around the world. It is a great place to enjoy the long sandy beaches and balmy breezes that the country has to offer.
The capital city of Oranjestad is a great place to begin an Aruba adventure as the city is filled with spectacular architecture representative of its Dutch heritage. There are many wonderful sights to see in Aruba including Arikok National Park. This park covers more than one-fifth of the country landmass and is home to an assortment of native plants and animals.
A visit here also means an opportunity to visit unique cave art. The caves at Guadirikiri are where original cave drawings from the Arawak Indians can be seen. There is also the Chapel of Alto Vista in which the 100-year old Oak altar is still used.
The country is also alive with regular festivals such as the weekly Bonbini Festival that takes place at the Historical Museum. Visitors also enjoy the country's annual Aruba Carnival hosted each January. Other activities include the Aruba Tierra del Sol 18-hole golf course and the popular Hadicurari Beach that is well known for ideal snorkelling conditions.
Aruba's main industry is tourism. Visitor's flying in will land at the Queen Beatrix International Airport just east of Oranjestad. The airport sees more than 200 flights per week arrive from major cities across North and South America and Europe.