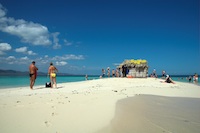 Book cheap flights to Saint Vincent by selecting an airport destination in Saint Vincent below. Compare flights to Saint Vincent from over a hundred airlines worldwide and book online with us today.
St. Vincent is the largest island of Saint Vincent and the Grenadines, a group of islands that make up this nation. Situated in the Caribbean Sea between St. Lucia and Grenada, the island group is primarily made of volcanic mountains. St. Vincent is a fairly small but perfectly pleasant island, measuring 29 km long and 18 km wide. Its landscape is dominated by the imposing sight of La Soufriere, a large active volcano, but do not worry--La Soufriere's last major eruption was in 1979.
The beaches of St. Vincent are a great place to while away a day or two, and boast both black and white sand. St. Vincent is rather rare in this respect, as not many places on earth have this particular claim to fame. In some areas of St. Vincent, black and white sand are only separated by a grouping of rocks. The black sand is produced by volcanic action.
The capital city of St. Vincent is Kingstown, the main port of the country. Kingstown has most recently found fame as the city where the Pirates of the Caribbean movies were filmed. Much of the original fortifications around Kingstown survive, dating back to the days of British colonial rule. The old barracks now house a museum celebrating the history of the Black Caribs. People travelling to St. Vincent will either arrive by boat to Kingstown or by air to E.T. Joshua Airport.