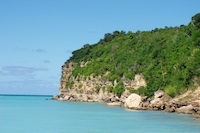 Book cheap flights to Antigua And Barbuda by selecting an airport destination in Antigua And Barbuda below. Compare flights to Antigua And Barbuda from over a hundred airlines worldwide and book online with us today.
In the low-lying, volcanic region of the Leeward Islands is Antigua and Barbuda. These Caribbean islands are located between the North Atlantic Ocean and the Caribbean Sea, just southeast of Puerto Rico.
The main industry on the islands is tourism, and the area is an ideal haven for nature lovers. With its natural nautical theme, the country is home to a vast array of unique Caribbean wildlife such as exotic birds and wild deer. The country is also home to Nelson's Dockyard, a grand English Harbour, which is adorned with sailboats and large-scale yachts.
A favourite island activity is the Frigate Bird Sanctuary where visitors can see many of the local species that are native to the area. The Antigua rainforest is a great spot to get out and enjoy some of the wonderful scenery while zip lining through the jungle. There is also the Devil's Bridge, which is a natural wonder that has been created from the Caribbean and Atlantic waves.
Not far from the town of Barbuda is the village of Codrington, which offers visitors the chance to view wildlife along its deserted beaches. There is also the sugar plantation called Betty's Hope that provides visitors with a bit of the island's colonial history.
The main international airport, V.C. Bird International Airport, is located in the northeast part of Antigua. This is the main gate through which travellers arrive and depart from the island. This airport maintains many direct flights as well as connecting flights from all around the world including Europe, St. Martin, and North America.