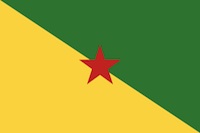 Book cheap flights to French Guiana by selecting an airport destination in French Guiana below. Compare flights to French Guiana from over a hundred airlines worldwide and book online with us today.
French Guiana is a beautiful and interesting country to the north of Brazil. It is a French territory and, therefore, part of the European Union, bringing a wonderful contrast of European history to South American culture.
Flights land in Rochambeau International Airport in the cosmopolitan capital city of Cayenne. Take some time to explore the bustling markets and admire the Caribbean twist on colonial architecture or drop into one of the many cafes and restaurants to sample the local produce skilfully served from a choice of French, Brazilian, and Creole cuisines.
Public transport is limited to a modest minibus service in French Guiana but taxis are a convenient way to get around or car hire can be simply arranged at the airport and from major hotels. The main roads are in excellent condition making it easy to enjoy the beautiful scenery or travel to towns such as Kourou for an informative visit to the space centre.
Beach lovers can enjoy the soft sands and tropical waters of Plage Montjoly and organised tours offer exciting opportunities to explore the Couleurs Amazone jungle. For a more sedate excursion through the jungles and forests, join one of the popular boat trips to see a variety of local wildlife and exotic trees and plants.
Fishing and timber are important parts of the economy in French Guiana but French subsidies and imports make this one of the wealthier countries in the area resulting in modern developments and ensuring a relaxed and enjoyable trip for its many visitors.