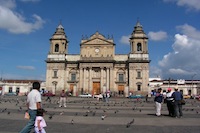 Book cheap flights to Guatemala by selecting an airport destination in Guatemala below. Compare flights to Guatemala from over a hundred airlines worldwide and book online with us today.
Guatemala is a beautiful central American country, just south of Mexico. With majestic mountains, ancient landscapes and warm Caribbean and Pacific coasts, there is something to suit every traveller in this land of legend.
Steeped in ancient Mayan history and complemented by more recent Spanish heritage, Guatemala offers a cultural mix of history, architecture, music and art unrivalled in other parts of the Americas. Soak up the atmosphere at the Mayan shrine in Pascual Abaj, discover history at the archaeological park in the capital Guatamala City, or admire the beauty of the Santiago cathedral in Antigua.
Buses are a popular way to get around as well as a delightful experience of local life; buses can get quite crowded although more modern and comfortable vehicles are generally available in the main cities whereas, out of town, you can usually get a ride from local lorries and pick-up trucks for which you will be expected to pay a small fare. International flights land at La Aurora airport in the dynamic Guatamala City or at Mundo Maya airport in the more sedate town of Flores.
Adventurers can choose from hiking up hillsides, mountain biking down volcanoes or seeing the countryside on horseback. City dwellers should experience clubbing in Guatamala City, jewellery shopping in the Antiguan markets, and authentic Spanish dining in Quetzaltenango.
The diverse geography and climate of Guatemala make it perfect for growing rich Arabica coffee that can be sampled in cafes throughout the country whilst cuisine has a strong Mexican flavour enhanced with exotic fruits and vegetables. Round off your meal with a tasty espresso and the local sweet bean delicacy of rellenitos.