Georgian Airways Flights and Routes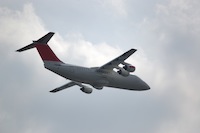 Tbilisi, Georgia based airline offering flights between Georgia and destinations in Western Europe, the CIS and Middle East.
Despite previous hostilities, there is still commercial co-operation between Russia and Georgia. These business links are maintained with the considerable assistance of Georgia Airways. Trade between countries, even those with land borders, is far easier with air transport between the two and this is where Georgian Airways is playing its part in maintaining commercial relations.
Georgian Airways is based from the city of Batumi. In addition to the vital trade routes maintained from Batumi, numerous scheduled flights are on offer to and from a range of destinations. These flights all serve to draw travellers and holidaymakers from far and wide to Batumi, helping to bolster the local economy and bring the delights of the region to a greater worldwide audience.
The city lies on the Black Sea coast in south-eastern Georgia, only 20 kilometres from the Turkish border. It is the capital of Adjara, an autonomous republic within Georgia, and is a city famous for its agriculture and shipbuilding.
Steeped in history, the city has over the years been occupied by numerous world empires, including the ancient Greeks, Romans and the Ottomans, and in more recent years the former USSR. The city lies in a humid, subtropical climate zone, making for comfortably warm weather in the summer. Batumi offers numerous attractions, from its aquarium to the Adjara State Museum and Batumi Botanical Gardens, and is steeped in culture and tradition. Visitors will be hard-pressed to not fall in love with its charm, which harkens back to a more innocent era, with its numerous quaint cafes, whitewashed buildings and beautiful coastline.
Flights on Georgian Airlines are serviced by comfortable and spacious Boeing 737 and CRJ900 aircraft.