Wizz Air Flights and Routes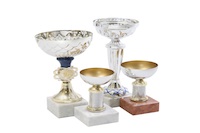 Established in 2004, this Eastern European low-cost airline operates a modern Airbus fleet on a network of over 100 European destinations.
Wizz Air has won two prestigious awards within a day of one another. The airline has been awarded the 'Best Airline' as well as 'Best Budget Airline' for its continued great customer service and affordable prices. Wizz Air remains the single largest low cost air carrier based in Eastern and Central Europe.
The awards were conducted through Pasazer.com, which is a popular Polish travel portal. This portal helped Wizz Air to receive the prestigious award of 'Best Budget Airline' for the fourth year in a row. The company is based out of Hungary but remains a market leader for low cost air travel in Bulgaria and in Poland.
Wizz Air flies to ten UK airports including Glasgow-Prestwick, London Luton, London Stansted, and Bournemouth. It continues to grow its current fleet of 19 Airbus A320s. Not only is Wizz Air continually expanding its fleet, it is also placing emphasis on expanding routes where they are needed most.
The airline is happy to announce that it has added new flights from Vilnius to Dortmund three times per week. Since opening the new base on Vilnius, the company has sold a remarkable amount of segments. Aside from this new route, Wizz Air continues to fly from Vilnius to Eindhoven in the Netherlands, Cork-Ireland, Doncaster-Sheffield, in the UK, Barcelona-Spain, London-Luton, Milan-Bergamo in Italy, and Rome-Fiumicino.