Montenegro Airlines Flights and Routes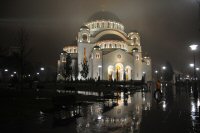 Founded in 1994, this Montenegro-based airline links the country with destinations including cities in Germany, Italy, France, Slovenia, Macedonia, Hungary and Austria.
Montenegro Airlines have announced that the airline plans to begin operating new routes from Belgrade to Western Europe.
This is a major coup for the airline, since both Serbia and Montenegro keep their airspace under a tight reign. Previously, the ruling body known as the Serbian Civil Aviation Directorate had denied the airline's request for summer charters to operate between Belgrade and Spain's Palma de Mallorca. In addition to the new routes, the airline will continue to operate summer charters out of Nikola Tesla Airport in Belgrade, as well as its scheduled services to Podgorica, Tivat and Zurich.
Serbia is in the process of implementing the Open Sky Phase I Agreement, although there are no dictates on the obligation of fifth freedom rights to airlines. However, the company's CEO hopes that airspace will be liberated sooner than later as the restrictions are adversely affecting the country's economy.
Montenegro Airlines is the national carrier for the country and was incorporated by the government in 1994. Though it operates the majority of flights into and out of Belgrade, it also shares airspace with Adria Airways, Austrian Airways and Jat Airways.
In a related story, the government of Montenegro also announced that low-cost carriers would be permitted to fly to both Podgorica and Tivat. While Zoran Djurišić claims to welcome the competition, he also said that he expected low-cost carriers to fly a full-year schedule rather than only operating during peak periods.