London Luton (LTN) Airport Guide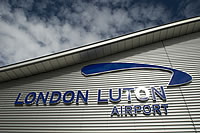 London's Luton Airport handles nearly ten million passengers each year and is situated 51 kilometres to the north-east of London.
The airport has just one terminal building and is served by airlines including Monarch and Thomas Cook.
Luton Airport Amenities
For a small airport, Luton has a great range of facilities and passengers should find everything they need in terms of shops, restaurants and financial services.
After passing through security, passengers will find stores including Accessorize, Monsoon and, as with most airports, a trusty old Tie Rack. People can also take advantage of the tax-free prices at the Travel Galleria, which sells perfume, cosmetics, liquor and tobacco.
Luton Airport also has a Change Group outlet, where passengers can buy phone cards, travel insurance and change money.
Restaurant-wise, there are various places to be found before and after security. Those looking for a pre-check-in tipple can head to the elegant Bar Des Voyageurs, which is a French-style bar with a relaxed atmosphere. After security there are plenty of options, including Est, which is the airport's only full-service restaurant and offers freshly made pasta, sandwiches, salads and more.
There is also a Pret A Manger, Krispy Kreme and Pip smoothie bar, which serves freshly made juices, as well as fruit, bagels and salads.
The airport has its own chapel, which is open daily from 4am until 12pm and holds a prayer service every Wednesday, which passengers and visitors are welcome to attend.
Business passengers will find an executive lounge, which is open daily and offers internet access, fax services and televisions, as well as hot and cold beverages. Lounge access is available from £11.50 for one hour.
Terminals at London Luton
Luton Airport has just one terminal building, with check-in and arrivals located on level one. Level two is home to the departure lounge, duty-free shopping area and boarding gates.
Luton Transport Links
As with all London airports, Luton has excellent transport links and passengers should have no problem travelling to and from the airport.
A shuttle bus runs every ten minutes between the airport terminal and the nearby Luton Airport Parkway Station, from where passengers can travel to central London in as little as 21 minutes. Travellers will also find bus and coach services, with National Express, Green Line and easyBus all operating at the airport and providing links to central London.
For passengers making their onward journey from one of the city's other airports, travelling with National Express is one of the most convenient options for connection.
Services depart to Stansted Airport 27 times daily, while both Heathrow Airport and Gatwick are also well served, with buses operating regularly throughout the day.