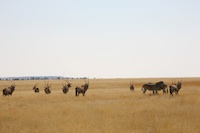 Book cheap flights to Burundi by selecting an airport destination in Burundi below. Compare flights to Burundi from over a hundred airlines worldwide and book online with us today.
Burundi is located in Central Africa, to the east of the Democratic Republic of the Congo. It also borders Rwanda and Tanzania and enjoys a varied climate; there are two wet seasons, from February to May and again from September to November; there are also two dry seasons, from June to August and December to January. Thanks to all its hilly and mountainous terrain, Burundi has some spectacular views and outstanding areas of natural beauty.
The capital city of Burundi, Bujumbura, is located on the northeastern shore of Lake Tanganyiaka. Bujumbura is home to the country's primary port and sees many ships passing in and out with valuable exports. The main airport in the country is also located in the capital city, with international flights arriving and departing daily. Other main airports are situated at Gitega Zenngo and Kirundo.
There are many reasons why more and more tourists are choosing to visit Burundi, with the breathtaking views and scenery being only the beginning. The country plays host to some of the most beautiful national parks, forests and hot springs in the world and places such as Karera Falls are simply stunning. Some of the most popular national parks include Ruvubu National Park; Rusizi National Park and Kibira National Park. Other popular attractions are Rwihinda Lake Natural Reserve and the Burundi Safari Tour.
Burundi's agriculture industry is the main employer in the country and products such as coffee, cotton, tea, corn and bananas are exported across Europe and to Pakistan.