Bujumbura Cheapest Fares
To search and book flights to Bujumbura in 2020 and 2021, please enter your requirements and click the search button above.
Bujumbura's for the birds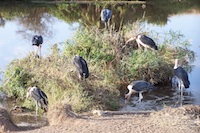 Niche holiday opportunities are growing, catering to our every hobby and passion. The niche holiday experience provides a way to explore our cravings and curiosities in more depth. Enthusiast tour operators in Bujumbura, Burundi are offering a bird watching tour, for those with a passion for feathered creatures.
Just north-east of Burundi lies the best place to watch birds. Lakes have formed in a wide depression in this territory and travellers can discover the area by canoe. Hundreds of birds have made their homes here and can be observed in their natural habitat.
The bird watching tour, operated in Bujumbura, makes a stop at the famous tea plantations of Teza for lunch and visits the Belveder Climb, with its wonderful view over the destination and Lake Tanganyika. The tour ends with another meal and transfer to the airport, if needed. A detour to the Livingstone monument, before catching your flight, is a possibility, if time permits.
Bujumbura's lakes and wetlands are not only beautiful and entertaining for animal lovers, they are of great interest to ecologists, due to the variety of life they contain. Lake Cohoha, the bird lake, is renowned for its ornithological reserve. A number of other national parks and forests are protected areas for the variety of other species that call them home.
For bird enthusiasts, this destination offers a unique bird watching experience combined with a bit of African history and culture. It is a quality niche holiday, for friends of feathered animals.