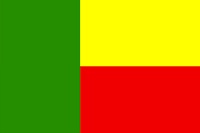 Book cheap flights to Benin by selecting an airport destination in Benin below. Compare flights to Benin from over a hundred airlines worldwide and book online with us today.
After fighting their way through dictatorship to a pluralistic political system, Benin has become one of the most stable countries in all of Africa. Formally referred to as Dahomey, the country of Benin has enjoyed stable relations with Nigeria, the region's main powerhouse, as well as positive economic growth.
Located in Western Africa, Benin sits between Togo and Nigeria while bordering the Bight of Benin. Its main industries include offshore oil and some natural resources, yet the country remains one of the poorest in the world.
If you are heading to Benin for a beach holiday, the best beaches can be found at Ouidah and Grand Popo. While at the beach, check out the Sacred Python and old Portuguese fort at the town of Ouidah. The country is filled with everything from amazing monuments to floating markets.
The towns of Boukombe, Dan Tokpa, and Contonou offer up some of the best market shopping in Benin. For a truly unique cultural experience, drive to Ganvie, which is 11 miles (18 kilometres) northwest of Cotonou. This is where visitors can see the magnificent houses built on stilts. There is also a lovely water market here.
The capital city of Porto Novo is where tourists should head to get a view of the colonial and pre-colonial architecture that makes this region so distinctive. The capital city is also home to the Ethnological Museum. Benin's national parks are an ideal place to spend a day watching local hippos, cheetahs, and crocodiles.