Voodoo Festival, Benin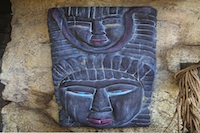 Every year in January thousands of Benin citizens descend on the seaside destination of Ouidah to celebrate Annual Voodoo day. Ouidah is about 40 kilometres away from Cotonou, Benin's capital city and considered the birthplace of the voodoo religion.
The one-day festival is held in tents, all decorated with colourful flags which represent different voodoo sects, across the popular African destination. Each tent and sect is marked with sacrifices and prayers.
About 6.3 million people practice voodoo in Benin and the festival gives the ordinary people of Benin the opportunity to meet and greet the various tribal kings and queens, all dressed in their finest national costumes. The celebrations begin when the supreme voodoo priest kills a goat in honour of the voodoo spirits, and this is marked with chanting and singing.
Festival-goers can expect to watch voodoo priests performing various rituals. On the beach horse riders give horse races across the sand to entertain the many delighted children whilst the adults happily sit around listening, dancing to the Congolese music and drums, and drinking gin.
Voodoo worshippers and people who practise the tradition daily believe that life comes from the natural forces of fire and air, earth and water and use it to bring love and peace into their lives, this is not something to fear but enjoy.
Visitors to this festival, which lasts a day but is anticipated excitedly for weeks, travel from as far as Europe and the United States.
The festivities end in Sogbadji which is the official residence of voodoo chief Daagbo Hounon, who every year then showers the throngs of people with free food and drinks.