Lagos Cheapest Fares
To search and book flights to Lagos in 2021 and 2022, please enter your requirements and click the search button above.
Enjoy Resort Life in Lagos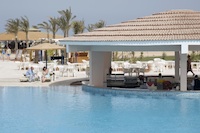 Lagos, Nigeria has much to offer, but the resorts that have sprung up there are definitely worth a visit. Most are located beachside, facing the Gulf of Guinea. Many are located along Lagos Lagoon or on Victoria Island, with beautiful views of the surrounding scenery. The area has been built up to be very modern and European, and the resorts are just a short drive (less than 15 kilometres) from the airport. A golf course and club is located near the centre of the island and all the resorts can accommodate your wish to tee off and even provide clubs should you travel without them. One well-known resort, the Venivici Spa, offers salt scrubs, mud wraps, hot stone and aromatherapy massages, and facials for all reasons.
The newly-opened Clear Essence spa has lush facilities with winding trails that encourage you to walk and reflect. Then come inside and partake of a Citrus Rejuvenation, a foot scrub, or a coconut rejuvenation. For men, the resort experience makes the most of your time away from work by relaxing you with patchouli, sandalwood, and some of the best coffee around.
The Radisson Blu Anchorage Hotel in Lagos offers luxury suites, dining cruises, a fitness centre, and an outdoor infinity pool. The Sheraton Four Points features plenty of space for business meetings, as well as a tech help centre. When you are ready to relax, they offer a sauna and steam room, indoor pool, health club and full-service spa. No matter what you want for a resort stay, one of the amazing resorts in Lagos is sure to offer it for you.