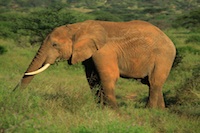 Book cheap flights to Nigeria by selecting an airport destination in Nigeria below. Compare flights to Nigeria from over a hundred airlines worldwide and book online with us today.
Nigeria is one of the most exciting countries in West Africa and is largely unspoilt by tourism, making it an authentic and overwhelming African experience.
Bordering the Gulf of Guinea, Nigeria can be found between Benin and Cameroon. Its capital Abuja is located right in the middle of the country, but Nigeria is probably better known for the sensory city of Lagos in the west.
Abuja International Airport is the country's premier airport but there are also plenty of others across the country, including Murtala Mohammed International Airport in Lagos as well as airports in Kano and Port Harcourt.
There is so much to see and do in Nigeria. From the heaving streets of Lagos to the tranquil forests of Gashaka Gumpti National Park, where you can spot elephants, lions and hippos. You will be spoilt for choice.
The country's oldest city Kano in the north, is worth a visit, boasting some stunning Muslim and Hausa architecture. While in the south it is worth having a look around Benin City which is home to Oba's palace.
Pack comfortable walking shoes because the best way to see this country is to wander through its ancient and charismatic towns and stroll through its rainforests.
Almost three quarters of Nigerians work in agriculture producing high quality cocoa, peanuts, cotton, palm oil and other goods, as well as stock farming. About 10% of the population work in other industries including crude oil, coal, tin, rubber, textiles among others. The remaining 20% provide various services across the country.