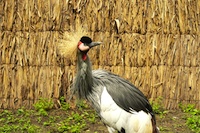 Book cheap flights to Congo Democratic Rep Of by selecting an airport destination in Congo Democratic Rep Of below. Compare flights to Congo Democratic Rep Of from over a hundred airlines worldwide and book online with us today.
The Democratic Republic of Congo, also known as"République démocratique du Congo" and previously known as Zaire, is a country in Central Africa. It is one of the largest countries in Africa and has an estimated population of approximately 70 million people. Of the African countries, only Sudan and Algeria are larger. The Democratic Republic of the Congo ranks as the eighteenth most populous nation, worldwide. Its officially recognised languages are Lingala, Kikongo, Swahili, and French. French is the language of business and tourism in the African state.
Currency in the Democratic Republic of the Congo is called the Congolese Franc. Congo's capital city is Kinshasa. When reading about 'Congo' there may be some confusion between The Democratic Republic of the Congo and Republic of Congo, because there are two countries in Africa with Congo in their title. Main attractions in The Democratic Republic of Congo include tropical rainforests and mountains in the west, and Plateaus and savannahs in the south. The country's main airport is N'Djili International Airport, also known as Kinshasa International Airport. Despite its central African location, the nation has chosen to economically and politically affiliate with the Southern African states, through membership of the Southern African Development Community (SADC). Whilst the country is economically poor, it has some of the richest natural resources in the world.