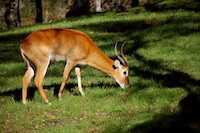 Book cheap flights to Congo by selecting an airport destination in Congo below. Compare flights to Congo from over a hundred airlines worldwide and book online with us today.
The Republic of Congo is located in western Africa and borders the South Atlantic Ocean, between Angola and Gabon. The country has land borders with Cameroon, the Central African Republic and the Democratic Republic of Congo. Congo has only 169kms of coastline and a tropical climate, with persistent high temperatures and wet and dry seasons. The main airport in the country, Maya-Maya Airport, is located in the capital, Brazzaville, which is the largest city and is located on the Congo River.
The tourism industry in Congo is growing steadily and more visitors each year are discovering that the country is the ideal place to experience a holiday with a difference. Some of the most popular attractions include the numerous historical sites and the exceptional rainforests, which are home to some unique wildlife. The capital city is another place of interest to many visitors, with the Marketplace, the Congo River Rapids and the Lefini Faunal Reserve being among the most popular. Cruises are also becoming popular, they take travellers down the Congo River and are well worth considering, as the scenery is absolutely breathtaking.
The Republic of Congo relies heavily on both its agriculture and industry sectors. Its farms produce tapioca, sugar, rice, vegetables, corn, peanuts, coffee and cocoa. These commodities, along with petroleum, timber, plywood and diamonds are exported to the USA, China, Taiwan, France and India. The country also relies on imports of various foodstuffs, construction materials and capital equipment.