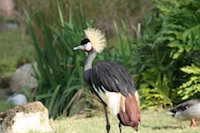 Book cheap flights to Cote D Ivoire by selecting an airport destination in Cote D Ivoire below. Compare flights to Cote D Ivoire from over a hundred airlines worldwide and book online with us today.
The Republic of the Cote D Ivoire, also known as the Ivory Coast, is a West African country. It borders upon Liberia, Guinea, Ghana, Burkina Faso, and Mali and has a coast on the Gulf of Guinea. The country has a population of an estimated 20 million people. The country Cote D Ivoire took its modern borders after the colonisation by Europeans and its following status as a protectorate of France in 1893. It became independent in the 60s and has since then held a close economic association with its West African Neighbours but also kept its cultural and historical ties with France.
The main tourist attractions include beaches and unspoilt natural habitats. The official language and the language of tourism is French, although there are many local dialects and languages including Baoulé, Dioula, Cebaara Senufo , Dan, and Anyin. The main religions are Islam and Christianity and often religious enclaves are separated by geography. Traditional religions are also still observed in different regions. The Cote D Ivoire relies heavily upon an agricultural economy and traditionally boosted its economy through trade of coffee and cocoa. Its capital is Yamoussoukro and one of the most significant airports is Yamoussoukro Airport, which accepts flights from all over Africa. Cote D Ivoire has a developed rail network that makes travel within the Ivory coast possible.