Abidjan Cheapest Fares
The lowest fare found to Abidjan (ABJ) was £1151 with KLM. The fares shown here are the lowest flight prices to Abidjan obtained in actual searches by Just The Flight customers. To search and book flights to Abidjan in 2022 and 2023, please enter your requirements and click the search button above.
Shop for the Holidays in Abidjan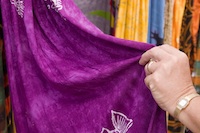 Holiday travellers who are looking for unique, exotic items for their Christmas shopping should make Abidjan, Cote D Ivoire their destination. This city, which is sometimes described as the Ivory Coast's Paris, offers a wealth of markets where you can find crafts and other items unavailable elsewhere. By visiting before the main start of the winter holiday season in the U.K., you will have a great opportunity to find the right gifts ahead of time
The Plateau Market, which is located at Avenue Delafosse, is a favourite destination of foreign visitors as well as locals. The variety of items available at the market is diverse, with many price ranges represented. Some of the items that are commonly purchased include electronics, textiles, household goods and local food. Several restaurants and boutique shops are within close walking distance
The Cocody Market is a good place to find local handcrafted items at reasonable prices. Some of the items available include ornaments, metal artwork and locally made cloth. This market is located at Boulevard de France.
The Adjame Market is worthy of consideration for those who want gift items. Most are priced very affordably for travellers who are on a budget. This market is also a good choice for visitors who wish to buy apparel items at low prices.
One nearby market located just outside Abidjan, Cote D Ivoire is the flea market in Le Plateau. It is located on Boulevard de Republic. Local artwork is found at reasonable prices in this market, as is a variety of other items, such as DVDs and CDs.