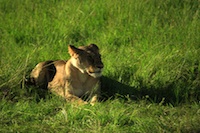 Book cheap flights to Cameroon by selecting an airport destination in Cameroon below. Compare flights to Cameroon from over a hundred airlines worldwide and book online with us today.
Cameroon is located in western Africa and borders the Bight of Biafra, between Equatorial Guinea and Nigeria. The country also shares its borders with the Central African Republic, Chad, the Republic of the Congo and Gabon. The country's climate is variable, depending on the terrain, with the coastal areas enjoying tropical weather and higher temperatures in the north. The capital city is Yaounde, which is the second largest city in the country, after Douala. The busiest airport in Cameroon is also located at Douala; it operates flights to and from Africa, Europe and South Africa.
Cameroon's fledgling tourism industry is growing steadily and the country is fortunate in being able to offer a wide range of attractions to its visitors. The most popular places of interest can be found on the coast, in the major cities, along the western highlands and to the north of the country. Limbe and Kribi are Cameroon's two major beach resorts, while Mount Cameroon is the highest mountain in Central and Western Africa. Yaonde has some impressive museums and the city of Bafoussam is popular for its woodcarving and arts. The most popular tourist attractions can be found to the north, where there are several wildlife reserves and animals such as elephants, giraffes and rhinoceroses
The agriculture industry in Cameroon employs the largest number of workers and the country produces coffee, cocoa, cotton, rubber, bananas, oilseed, grains, root starches and timber. It also exports crude oil and petroleum products.