Douala Cheapest Fares
To search and book flights to Douala in 2021 and 2022, please enter your requirements and click the search button above.
Ancestor Rituals at the Ngondo Festival in Douala, Cameroon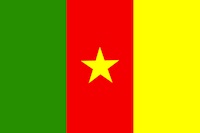 The Ngondo Festival of the Sawa in Douala, Cameroon, takes place each year on the banks of the Wouri River. Active in its modern form since 1991, this festival celebrates the cultures of the coastal peoples in this African nation. These peoples include not just the Douala, but also the Bassa, Bakoko, Batanga, and Yasabi ethnic groups, which together comprise the "Sawa" .
The festival is an interesting blend of African and western customs. Each year warriors compete against one another in traditional fights, and dances of the various Sawa peoples are performed, but the festival also includes the election of a "Miss Ngondo" to represent the celebration. The standards of beauty utilised to judge this pageant are a mixture of African and western ways to judge the female form.
The last event in the Ngondo Festival of the Sawa is the "Festival of Water" which takes place alongside the Wouri River. Tribal heads attend the event in order to commune with their ancestors, who enacted similar rituals long before the modern re-establishment of the festival. Part of the Festival of Water also involves a diver who stays nine minutes underwater in order to see the ancestors at the bottom of the river. This diver takes with him a sacred pot. When he surfaces after his long dive, the pot contains a message from the ancestors. Initiates in the festival decode the message to the delight of the large crowds who annually attend.