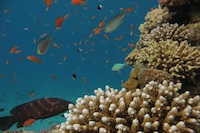 Book cheap flights to Eritrea by selecting an airport destination in Eritrea below. Compare flights to Eritrea from over a hundred airlines worldwide and book online with us today.
Eritrea is a country in the horn of Africa whose capital is Asmara. Its official languages are Tigrinya and Arabic although there are many regional dialects including Tigre, Saho, Bilen, Afar, Kunama, Nara, and Hedareb. It is located east of Sudan, north of Ethiopia, and north-west of Djibouti. A long section of its coast is against the Red Sea, across from Saudi Arabia and Yemen. The country is approximately 45,000 square miles and has an estimated population of five million. Eritrea has a long history and has been host to civilisations stretching back as far as the times of Ancient Egypt.
Tourists are attracted to Eritrea's natural beauty such as the long coast, the numerous islands, and mountains. It has incredible wildlife, springs, and forested mountains. Eritrea has almost 750 miles of coast that is host to a variety of extraordinary marine life, including unique fish, coral reef, dolphins, and turtles. This coastline is covered in unspoilt beaches and pristine seawater. The highest Eritrean mountain is Embasoira and is 3013 metres high. Mai-Wuuy, hot water springs in the Great East African Rift valley, is an impressive tourist attraction. Eritrea's main airports are Amara International in Asmara and Assab International in Assab. Both of these airports service international destinations and are a travel hub into and out of Eritrea.