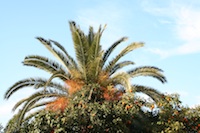 Book cheap flights to Gabon by selecting an airport destination in Gabon below. Compare flights to Gabon from over a hundred airlines worldwide and book online with us today.
Being one of the wealthier sub-Saharan African nations, Gabon offers a vast range of fantastic experiences to suit every type of visitor. With beautiful beaches, exotic countryside and bustling towns, travellers are sure to enjoy traditional African hospitality in this modern and diverse land.
Fly into Léon M'Ba airport in the capital city of Libreville and take in the urban sights with modern high rise hotels, museums, and historical architecture, surrounded by palm trees and bordered by beaches. Enjoy local delicacies in classy restaurants or simply grab a snack in the friendly cafes and bars.
Africa is famed for its dynamic nightlife and Libreville is no exception. Take advantage of the pubs, clubs and music venues in this exciting city before heading out into the countryside for breathtaking scenery and outdoor adventures.
To make the most of all Gabon has to offer, consider hiring a car with a driver to take you to remoter parts such as the deserted beaches of Mayumba. The Transgabonaise trains offer a comfortable and scenic way to get around or take a boat trip out along the coast or rivers.
The discovery of oil off the coast of Gabon prompted the country to reduce its economic dependence on timber and logging, so protecting the stunning landscape for eco-travellers and wildlife enthusiasts. Visit the Loango National Park on the south coast for a spot of whale watching or head East for the camping experience of a lifetime among the gorillas and elephants in the Ivindo National Park.