Libreville Cheapest Fares
To search and book flights to Libreville in 2022, please enter your requirements and click the search button above.
Visit Libreville for a traditional Gabon festival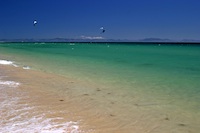 Even though it is independent from France, the city retains some evidence of its French flair. The city of Libreville, Gabon is one of rich culture, massive palm trees, and open roads that make getting around comfortable and easy.
This wonderful city is the perfect destination for those who appreciate interesting architecture. The Palais Presidentiel, which was erected during the 1970s, remains one of the city's marvels. Unfortunately, this viewing is walk-by only as visitors are not allowed inside. Another important landmark for Libreville is L'Eglise St-Michel. The phenomenal masterpiece known as the St. Michel Church is comprised of 31-foot tall wooden columns. The hand carved columns are said to have been crafted by a blind man and truly are a remarkable sight.
The city itself is a joy to stroll though with its Boulevard Triomphal, which is a major landmark. It is along this street that the engineering feats of Libreville are on display in the form of many magnificent and unique buildings. A nearby marina is also lined with interesting sights and leads to several beaches.
Libreville is a city of great festivity as they gear up each year to celebrate the country's Independence Day. During the month of August, Libreville is a good destination to experience the unique culture of Africa as visitors enjoy a military parade and traditional dances. New Years is also a great time to visit, as lavish festivals take place while locals splurge on gourmet food and wine accompanied with music and parties throughout the city.