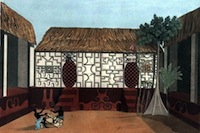 Book cheap flights to Ghana by selecting an airport destination in Ghana below. Compare flights to Ghana from over a hundred airlines worldwide and book online with us today.
With miles of relaxing western shores, acres of stunning national park scenery and a typically friendly African welcome, Ghana promises a thrilling and memorable trip for every visitor to this modern and diverse country.
Arrive at the international airport in the capital city of Accra and situated on the beautiful Ghanaian coast. From there take a taxi or bus to inland destinations or use the local 'tro-tro' minibus to explore Accra's lively mix of bustling city life and quiet leafy suburbs.
Head inland to nearby Aburi for a more sedate urban experience and discover the local plants, birds, and butterflies in the peaceful botanical gardens. Further north, enjoy an authentic African encounter in the rustic town of Kumasi, picking up bargains in the busy markets or learning about local crafts in the National Cultural Centre.
Despite the extensive coastline, Ghana is not well known as a seaside resort although there is plenty of space to relax on Labadi beach, which is easily accessible from Accra. For those seeking more remote shores, travel out to the coastal villages of Busua and Tasaradi, or enjoy the delightful beaches of Cape Coast before hopping on a tro-tro to the spectacular Kakum National Park.
You are sure to find accommodation and activities to suit as tourism is a major industry in this recently prosperous country. However, no trip to Ghana would be complete without sampling some of the major export crops of fresh bananas and delicious cocoa products or by picking up some local gold souvenirs.