Accra Cheapest Fares
The lowest fare found to Accra (ACC) was £515 with Turkish Airlines and the cheapest direct flight was £738 with British Airways. The fares shown here are the lowest flight prices to Accra obtained in actual searches by Just The Flight customers. To search and book flights to Accra in 2022 and 2023, please enter your requirements and click the search button above.
Eco-Tourism Arrives in Accra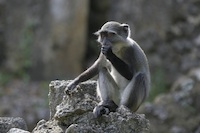 Accra, Ghana, has embraced its wild side and is now developing its eco-tourist industry. Accra is the perfect launching point for most of the tours, as this is Ghana's largest airport and can handle larger planes arriving from Europe and other parts of the world. Customs is reasonably efficient, and visitors are usually on their way without much disruption.
The African Conservation Foundation (ACF) has been created to help save endangered animals from both poaching and loss of habitat, and they have a hand in several of the animal preserves near Accra. One of those is the Owabi Wildlife Sanctuary, about 100 kilometres north-west of Accra. 161 species of birds, 13 of which are endangered, reside or migrate through here, and there is a wide variety of indigenous plant species as well.
Besides bird sanctuaries, eco-tours are available that focus on responsible trekking, waterfall viewing, butterflies, and of course, the unique wildlife of Africa. The Solo Forest Monkey Sanctuary has, of course, many species of monkeys, but also birds, snakes, and butterflies. In fact, the coastal area around Accra is critical to the survival of many types of marine and tropical animals. Several deltas provide nesting areas for migratory birds, and spring and autumn are excellent times for bird watching. Canoe and sailboat trips can be arranged to see the water-based wildlife without damaging the ocean with petrol motors. Ghana in general, and Accra in particular, is making excellent strides in meeting their eco-tourism demands with glimpses of its unique climate and wildlife.