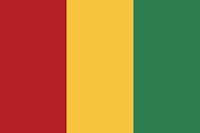 Book cheap flights to Guinea by selecting an airport destination in Guinea below. Compare flights to Guinea from over a hundred airlines worldwide and book online with us today.
The striking west African country of Guinea boasts some of the most dramatic landscapes in the world including tropical dry forests, majestic waterfalls, and beautiful mountains. Visitors are guaranteed a memorable trip to this land of gorgeous surroundings and breathtaking views.
Situated on the west coast and south of Senegal, Guinea can offer visitors a vast range of scenery and activities including relaxing on the stunning beaches of cape verga, spotting exotic wildlife, trekking across Mount Nimba, or listening to local musicians and performers in the busy town of Conakry. Sample delicious tropical fruits from street sellers or relax in a café with a plate of the local speciality, Maafe, a meat stew flavoured with peanuts.
G'bessia international airport is situated on the attractive coast of the capital city, Conakry. Visitors looking to enjoy some time in the city will find busy shops, bars, restaurants and vibrant nightclubs aplenty in Conakry together with more sedate pastimes including the national museum, the botanical gardens, and the attractive Grande Mosque.
Taxis are a popular way to travel around the city and it is common to share the taxi with other passengers. Minibuses are a cheaper alternative and provide an authentic African experience, with many passengers using the buses to transport their livestock.
Guinea is rapidly emerging from politically turbulent times and is focusing on developing tourism to complement the agricultural and mineral industries. Visitors can enjoy incomparable scenery, glorious sandy beaches, rewarding treks into the countryside, or the bustling nightlife of Conakry.