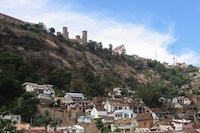 Book cheap flights to Madagascar by selecting an airport destination in Madagascar below. Compare flights to Madagascar from over a hundred airlines worldwide and book online with us today.
Madagascar is an island located just off the south-eastern coast of Africa, in the Indian Ocean. It is the fourth-largest island in the world and is known for its excellent water sports and unique wildlife reserves.
Antananarivo is the capital and largest city in Madagascar with a population of over a million people. Situated almost dead in the centre of the island, It is also home to the main airport, called Ivato International Airport, where the best way to get to and from Europe is via France.
Tourism in Madagascar is mainly centred around the country's wildlife, of which there are several species that can only be found on the island. For example, over half of the island's birds only exist in Madagascar. There are a large number of national parks and wildlife reserves where these can be viewed, with the largest being Tsingy de Bermaraha on the west coast. Listed as a World Heritage site, here you can find unique species of lemur and birds as well as awe-inspiring forests of unique plants and trees. The two smaller islands also belonging to Madagascar are Nosy Be and Nosy Sainte Marie and are renowned for their water sports. The high winds at Nosy Be are perfect for kite and wind surfing, while kayaking trips are available along the beautiful coastline of the Sainte Marie.
As an island, Madagascar's main industry naturally comes from fishing and forestry, with 80% of its people employed in these fields.