Antananarivo Cheapest Fares
To search and book flights to Antananarivo in 2020 and 2021, please enter your requirements and click the search button above.
A Natural Wonder in the Indian Ocean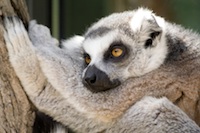 The island of Madagascar, floating in the shimmering Indian Ocean off the east coast of Africa, is the destination of choice for anyone seeking an unforgettable holiday experience. The island's capital, Antananarivo, is the ideal base from which to explore the rich hinterland of rainforest and rivers, with the unsurpassed variation of its natural flora and fauna.
Guided tours introduce visitors to this amazingly diverse world of nature, to species that exist nowhere else in the world. The island has no big cats, which has allowed the wildlife to develop differently from many parts of mainland Africa. Enchanting varieties of the monkey-like lemurs can be seen swinging through the forests, chameleons and multi-coloured frogs abound, and rare, protected land tortoise can also be spotted.
There are said to be some 285 species of bird on Madagascar and special trips can be organised to go bird watching. Many of these species can only be found on the island and are of special interest to ornithologists.
Being surrounded by the sea means that are excellent opportunities to take part in the many water sports on offer. Fishing, diving and sailing are popular, with opportunities to for surfing and windsurfing. Inland, rafting, cannoning and climbing are offered in the appropriate season.
Atananarivo itself is strategically situated in the middle of Madagascar. It is a fascinating city to explore on foot, with two forts to investigate and the remains of the Queen's Palace, or Rova, destroyed by fire. It's a hilly destination but worth the time and trouble to investigate.