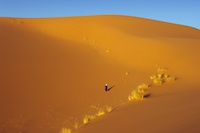 Book cheap flights to Mauritania by selecting an airport destination in Mauritania below. Compare flights to Mauritania from over a hundred airlines worldwide and book online with us today.
Mauritania is a wild, exotic country, spanning over a million square kilometres on the north-western coast of Africa, bordering Western Sahara, Algeria, Mali and Senegal. It is home to only 3.3 million people, and is one of the continent's newest and biggest oil producers.
Much of this Arabic and French-speaking country's landscape is filled with the awe-inspiring dunes of the Sahara, and its population is refreshingly diverse, ranging from the Arab-Berber inhabitants of the north of the country, to the black African inhabitants of the south. There really is no wonder that so many of Mauritania's citizens are nomadic; when a country has so many beautiful sights to offer, why would you stay in one place?
Mauritania's capital city is the once-humble fishing town of Nouakchott, situated on the west coast next to the vast Atlantic ocean, which is home to the country's main airport – Nouakchott International Airport. Once you have landed here, you may want to treat yourself to some of the city's exquisite seafood in one of its trendy restaurants, or take a walk around the old traditional fishing markets whilst breathing in the fresh ocean air.
Whether you want to wander around Mauritania's ancient, mysterious cities, or ride a camel through its vast plains of sandy desert, you can be assured that this unique country has never had a touristy, commercial wand waved over it. Without a holiday resort in sight, this is the place to come if you want an authentic taste of Islamic Africa.