Nouakchott Cheapest Fares
To search and book flights to Nouakchott in 2022, please enter your requirements and click the search button above.
Niche tour in Nouakchott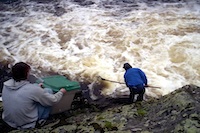 With the growth of enthusiast tour operators, there is now a huge range of niche holiday opportunities, with every hobby and passion catered for. The niche holiday experience is a genuine way of exploring our cravings and curiosities. Nouakchott, Mauritania is one such holiday destinations, naturally designed for the die-hard fisherman.
Once just a tiny fishing town on Africa's west coast, Nouakchott underwent an ambitious building program, when chosen as Mauritania's capital. The city is an interesting one to navigate, as you unravel this destination's intriguing history.
The bustling fishing wharf, Port de Peche, provides a first hand look at Mauritania's fishing industry. It is, by far, the city's star attraction. In late afternoon, you can watch hundreds of fisherman dragging in the day's catch in heavy hand knotted fishing nets. The bright sea canoes add to the lively atmosphere, as small boys hurry back and forth with trays of fish. Sales are made on the spot and stacked onto donkey carts to be resold in city centre.
Cast your own rod, for a bit of surf fishing. Only basic fishing supplies can be bought from the shops. Nouakchott also boasts a fishing centre, which offers a 10 day fishing itinerary including fly fishing off the coast in a boat, guided fishing with a local expert and time to explore the local parks and the market.
For fishing enthusiasts, this destination offers a truly unique fishing experience complete with the joys of traditional sport fishing to the heart's content and an education in the proud fishing heritage of another culture.