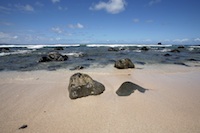 Book cheap flights to Reunion by selecting an airport destination in Reunion below. Compare flights to Reunion from over a hundred airlines worldwide and book online with us today.
The tiny island of Réunion lies east of Madagascar and is one of Africa's best kept secrets. This French-speaking island is often described as a "mini Hawii" as it has an extremely diverse landscape, from deep luscious forests to breathtaking beaches and lava fields. Its airport, Aéroport de la Réunion Roland Garros, is located in Sainte-Marie, on the north side of the island next to the capital of Saint-Denis.
Réunion has some charming little towns exhibiting fine Creole architecture and even glitzy cities. Its capital has some pretty parks, as well as the art gallery and museum Léon Dierx Museum. Along the west coast you will find a number of beach towns including Boucan Cont, which is a popular destination.
However, Réunion's beauty lies in its unspoilt tropical beaches. If you do not fancy some of the more built-up islands of the Indian Ocean and want to sample somewhere that has been left largely unspoilt by tourism, then Réunion is a good option.
If you can drag yourself from its beaches, you can visit the Piton de la Fournaise volcano, which is active but accessible for treks, as well as extinct volcanoes and canyons.
The only road that goes across the island takes in the high plains, Les Hautes Plaines, which is dramatically cooler than the coast and often very misty – but can make for a refreshing change in temperature. A road off the plains will take you just kilometres from Piton del la Fournaise.
Some of the major industries on the island include sugar, rum, handicrafts, and flower oil extraction.