St Denis De La Reunion Cheapest Fares
To search and book flights to St Denis De La Reunion in 2020 and 2021, please enter your requirements and click the search button above.
A Paradise Island Set in Warm Ocean Currents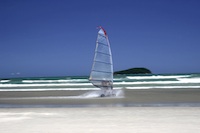 Réunion is a small island in the Indian Ocean, some 600 or so miles east of Madagascar and around 120 miles southeast of Mauritius. St Denis de la Réunion is the island's capital, the island itself being an overseas department of France.
The destination is ideal as a base for exploring the island, which has a fascinating abundance of wildlife and rare botanical plants.
Lapped by warm ocean waters the island's La Réunion National Park was designated a World Heritage Site in 2010. The interior is volcanic with stunning lunar landscapes and lush, thick forests teeming with wildlife and exotic orchids and plants. Visitors interested in natural history will find something of interest wherever they travel on the island, as it was never part of a continental landmass, which enabled its own unique ecology to develop.
Apart from presenting marvellous opportunities to explore its rugged interior, St Denis de la Réunion also offers adventurous hiking, with an extensive network of trails, treks around the island on bicycle or on horseback and 20 different climbing walls to test all levels skill, from beginner to experienced. An excursion off the beaten track, by 4x4 vehicles, takes visitors to viewpoints that could not otherwise be easily reached, while for those who prefer a more relaxed outing there are three golf courses to explore.
Windsurfing, diving and deep sea fishing are all popular pastimes and shooting the rapids on the rivers in the interior is not for the fainthearted. With a French influenced cuisine, good quality accommodation and a warm climate, this destination offers a very different experience.